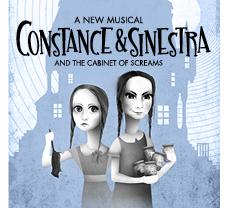 TICKETS AVAILABLE HERE
Written by Alexandra Spencer-Jones and Patrick Gleeson
Directed by Alexandra Spencer-Jones
Designed by Simon Pape
'Superb' (One 4 Review). 'Bonkers and hilarious' (The Scotsman). 'Spooky, strange and surreal' (What's On Stage). 'Feisty, eccentric' (Edinburgh Evening News). 'Exquisitely creepy' (Three Weeks). 'A remarkable piece of new writing' (Fringe Review). 'A beautiful little show' (Broadway Baby). 'Puts to shame the hackneyed standards of the contemporary musical scene' (The Stage).
In association with Rose Bruford College Action To The Word play their first ever actor-musician production of their award-winning musical at The Ugly Duck from 14th June
Constance and Sinestra live on the edge of a cliff with their mad taxidermist father who never comes upstairs. Three years ago their mother died and he stuffed her and mounted her in the hall. A heartbreaking and twisted tale of love, loss and baking written by Alexandra Spencer-Jones and Patrick Gleeson – Constance & Sinestra took the Edinburgh Festival by storm winning a WhatsOnStage and MTM:UK Musical Theatre award and played Latitude Festival and is currently in development. Perfect for lost children of all ages.
CAST INCLUDES
ROWLAND BALLANTYNE/ENSEMBLE – Jack Blakey
MEAN GIRL – Georgia Burnell
HALE – Jonathan Deering
SINESTRA – Ella Dunlop
MRS VAN deSCAB – Hannah Hopewell
MOSSLEY ROCHE – Eben James
MR VAN deSCAB – Scott McDowell
MAD DAD – Luke Millard
OLDER MEAN GIRL – Tilly-Mae Millbrook
DEAD MUM – Ellie Ordish
CONSTANCE – Zoe West
GRANDFATHER – Euan Wilson
This show is also available for amateur licence. Contact admin@actiontotheword.com